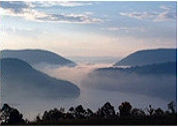 Norris Lake, Tennessee, is a picturesque place situated around the beautiful Cumberland and Smokey Mountains. Rolling green hills and nearly 800 miles of crystal clear waters are two of the many reasons why people vacation and set roots here.
Named as one of the cleanest lakes in the Southeast, Norris Lake boasts plenty of activities for residents to engage in year round. People who live here respect the environment and work hard to preserve the natural beauty that Norris Lake is well-known for.
Norris Lake covers five counties including Anderson, Campbell, Claiborne, Grainger, and Union. The vast size of the area allows for ample housing opportunities. Each community within the five counties has good access to the lake as well as three parks, over 20 marinas, and exceptional dining options.
For upscale shopping, dining and entertainment, Knoxville, TN, is just about 40 minutes away. However, the five counties of Norris Lake do provide the everyday conveniences you will need for a comfortable living.
Aside from water sports, Norris Lake is known for excellent fishing conditions. Different fish species are more plentiful in certain seasons, but generally you can fish for Spotted Bass, Crappie, Largemouth and Smallmouth Bass, and Walleye.
Purchasing lakefront property was quite difficult in previous years, but in today's market,it is very favorable and affordable. On Norris Lake, TN, you can buy a lakefront home at an affordable cost and reap the benefits of having easy access to the mountains, wilderness and water.
Norris Lake provides residents the perfect amount of harmony for a relaxing lifestyle. There are many beautiful gated communities with stunning homes available for retirees or those looking to re-locate their family. For expert Norris Lake real estate assistance, be sure to contact us.